Organised Garage: 16 ideas to unlock perfectly arranged space
An Organised Garage: The Key to Finding Things Easily and Quickly
Live by the motto "A place for everything and everything in its place," and you'll never experience the frustration of searching for items again. Maintaining an organised garage not only keeps your belongings in order but also preserves your sanity.

1. Create zones
Creating specific areas for groups of tools or equipment will make your garage work most efficiently. In order to have an organised garage, group all your garden tools, for instance, in one corner and make sure all your tools are always near your workbench.
2. Born organiser
There are many plastic organiser units available at hardware stores that make it so easy to find and keep track of screws, nails, bolts, washers etc. Some have compartments, some have drawers or trays – get the one that suits your needs best. Finding nuts and bolts will never send you nuts again.
3. Helping you with your hang-ups
Pegboards are the most inexpensive, versatile garage organisers around. Attach the boards to your walls and hang your tools and gear with hooks to have an organised garrage look. Hanging a pegboard above your workbench makes it a breeze to keep your workbench free of clutter while you work. Every kind of pegboard comes with a range of accessories to help you with your hang-ups, from simple hooks to small or large bins and baskets.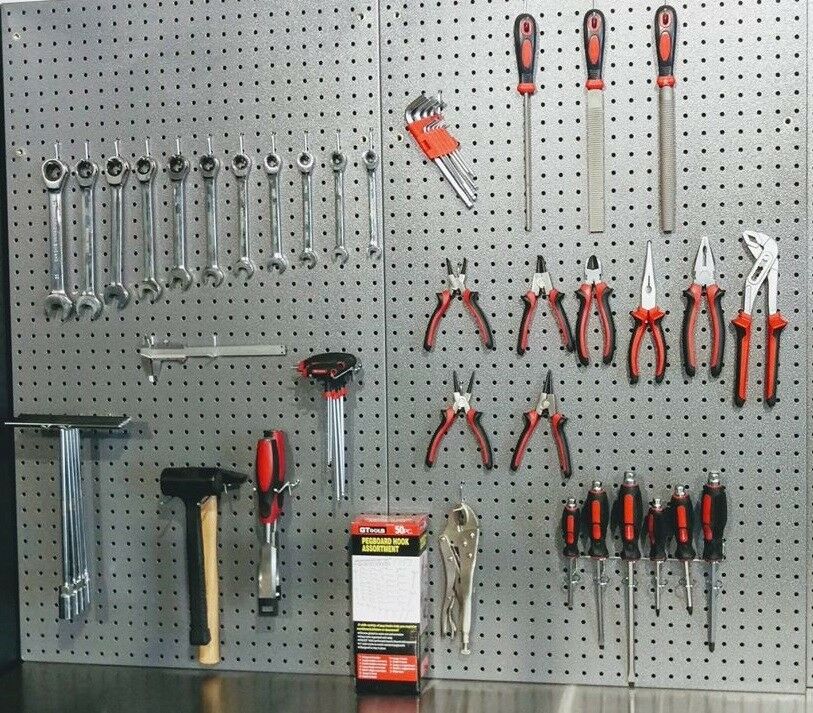 4. Pegboard pipe dreams
Create your own clever pegboard storage by cutting short lengths of 25mm PVC piping then slide them over your pegboard hooks. Great for storing things like pencils, hacksaw blades, files, stir sticks, zip ties etc.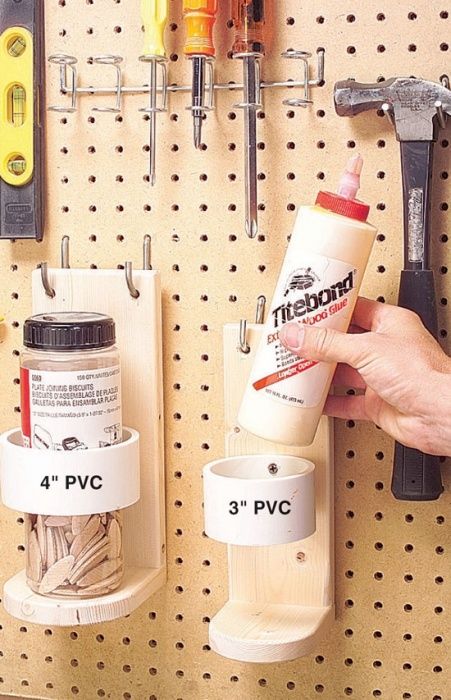 5. Hooked on tools
Also available at your local hardware store are purpose made tool holders. These black, plated steel holders are designed specifically to store spanners and screw drivers and easily clip onto your pegboard. Great if your tool box is chockers and you can never find anything.
6. Get off the rails
Universally available, track or rail storage systems are a versatile, inexpensive wall storage solution that gets everything off the floor. Simply attach the tracks or rails to your walls and get hanging. Your local hardware store will have systems that feature a range of storage accessories like hooks and/or hang baskets so you can curate your own unique system. Don't forget to use all your available space – install track/rails high up on walls where you can store rarely used items for an organised garage feel.
7. Cabinets
You can buy pre-made cabinets or if you're handy, buy them flat-packed and DIY. You'll be able to store everything behind doors giving your garage a sleek, tidy look and keeping things like your power tools dust free. Some cabinets are on castors so you can wheel them in and out of position. These are great if you rearrange your garage regularly or need extra versatility.
8. Lockers
Locker yourself into tight spots when you don't have much space or there's a tight spot left in your garage, install a tall locker cabinet. Use it to store long items or choose one with shelves for small bulkier items.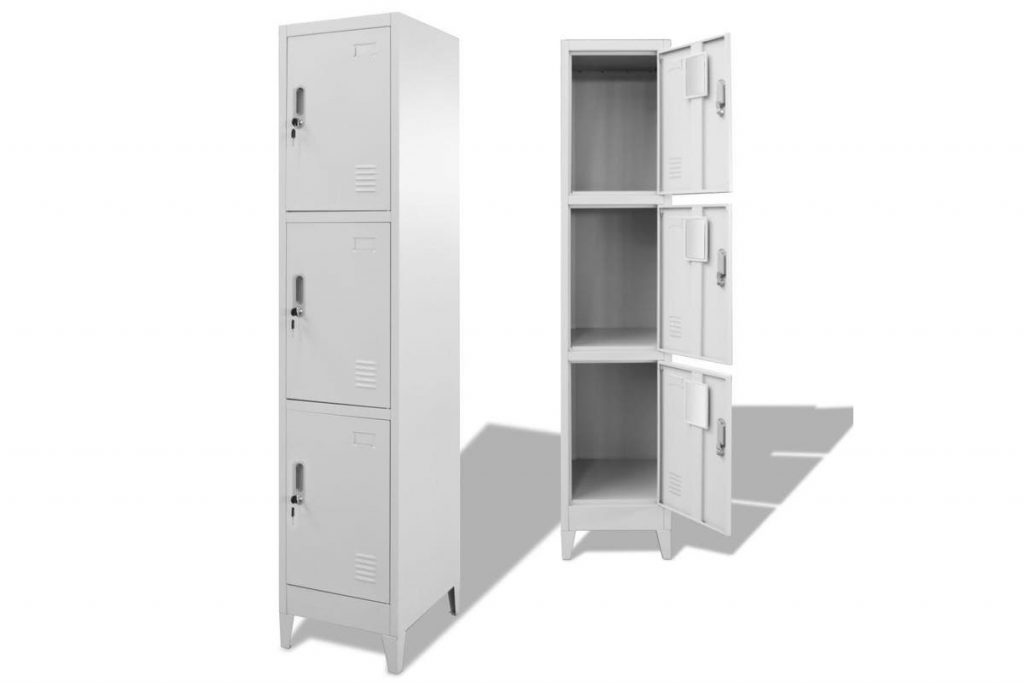 9. Tiered shelving units
There are so many tiered shelving systems and units available, from lighter-weight units right up to heavy duty shelving that can handle up to 500kg in weight. They come in many shapes and sizes that will suit every garage and storage need.
10. Magnetic attraction
When you don't have room for big tool boxes use magnetic strips to store smaller tools like drill bits, screwdrivers, spanners, even garden trowels. You can add magnetic strips to walls or shelves and the great thing is – you can easily see at a glance where everything is.
11. Plastic fantastic
Plastic tubs help keep just about anything tidy. They're cheap, available in so many shapes, sizes and strengths from lightweight to heavy duty. You can label them, even colour-code them if you want, so you'll be able to find everything quickly. These fantastic plastic storers can be stacked on top of each other or housed in shelving units.
12. Don't cut corners
Don't waste valuable corner space. There are lots of corner units available that are ideal. Choose a tower rack to store long-handled tools like rakes and brooms or long building materials like dowel or piping. Tiered corner units are also a great idea to store smaller, bulkier items on shelves.
13. Down the tube
Create your own storage tubes for long items including brooms, spades, rakes, or longer pieces of building material. You can cut pieces of stormwater piping to the length you want, or use heavy-duty cardboard concrete forming tubes cut to size. Simply secure them to the wall with brackets or cable ties. Nothing to tie your tubes on to? Try stacking two or three besser bricks on top of each other to store tall things in the centre cavities.
14. Hook up your bikes
You'll save heaps of room if you can store your bikes cleverly. There are lots of options: simply hang your bikes by their wheels on hooks or hangers suspended from your garage walls, ceiling or rafters. A bike butler is a great idea. It's an adjustable bike rack that stores bikes upright via a flexible arm which acts as an adjustable seat post grabber that pivots and expands to suit any bike. Bike butlers folds away to save space when not in use. A bike hoist will also store your bike out of the way, up high, via an (auto-locking) pulley system that lifts and lowers your bike. You can use a hoist for other heavier objects like ladders too.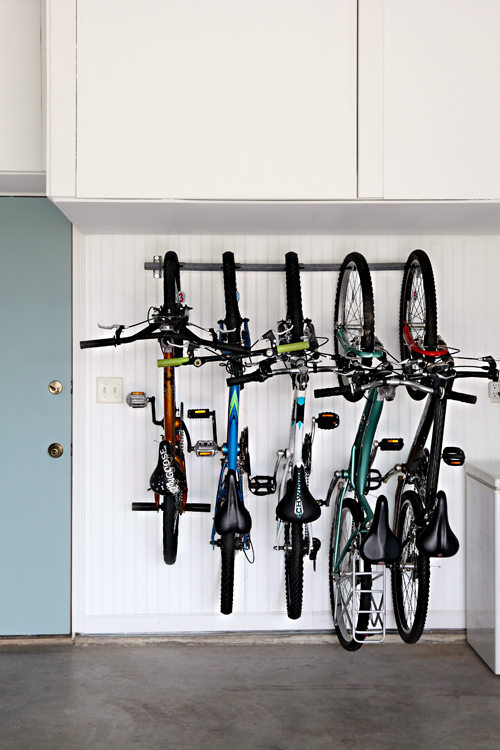 15. Look up to save
Don't waste ceiling space. There are many ceiling storage systems available or you can simply make your own from wire shelving or meshing positioned across rafters or beams, or suspended from the garage roof.
16. Workbench wheely buddies
Utilise the space beneath your workbench when you're not using it by rolling in a small cabinet or cart. Storage on wheels is amazingly versatile in any garage.